0

Your cart is currently empty..
How to buy Cool Sneakers
How to buy favorite sneakers:
Here is how to search for and purchase cool cheap shoes, as well as the ordering process and services of coolsneakers shoes.
Method 1st.
Browse the products on the homepage and choose the products you like.

Method 2nd.
Through the search bar in the upper right corner, enter keywords and click "

"

Method 3rd.
By Navigation Bar.
3.1 Shopping ON PC:

3.2 Shopping ON Mobie: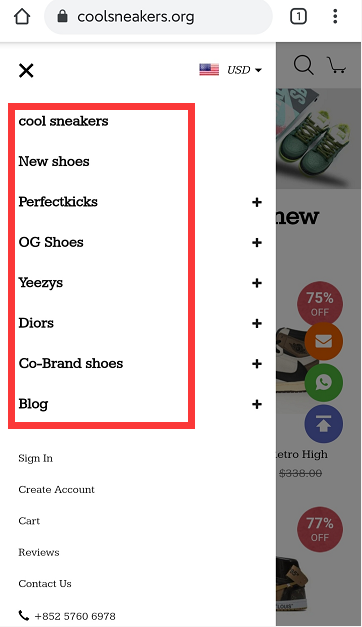 Cool Sneakers order process:
1. Select products and consult, and then place an order to pay.
2. Complete the payment. If you have any questions, please contact CS through WhatsAPP, Facebook and Email to resolve.
3. Customer Service (CS) will contact you to confirm size and delivery information.
4. CS provides QC photos for your confirmation.
5. Only after you confirm, your favorite cool sneakers will be sent out and delivered, and CS will provide you with the delivery note number.
6. After receiving your favorite cool shoes, if you want to give us product feedback or share product reviews, we would be very grateful.
Cool Sneakers Service and Guarantee:
1. Free QC photo service: QC photos are provided before shipment, and then shipped after confirmation
(After placing the order, please contact us via WhatsAPP, Facebook and Email. Choose WhatsAPP and Facebook first.)
2. Delivery service: It usually takes 8-20 days from excellent express suppliers such as DHL/EMS
3. Payment method: credit card/debit card/Paypal/WeChat payment/Alipay
4. Customer service: at least 14 hours a day. Our customer service response time: Washington time: 9PM to 11AM, London time: 1AM to 3PM
5. Provide the courier number after delivery.
6. The return service is very good. If it is intercepted by the customs, we will ship it again. Please click on the return policy for more information.